Easter
This week we have been:
Continuing our Easter celebrations and learning about the Easter story. We read the Easter story using props to help us tell the story. This week we continued the story with Good Friday, Easter Saturday, Easter Sunday and Easter Monday.  We have enjoyed retelling the story with our friends and when making our Easter story mobiles with Mrs Lowe. This week we also dyed red eggs, made choclate Easter nests, the girls decorated the epitaphon and we took part in our Easter liturgy in the hall.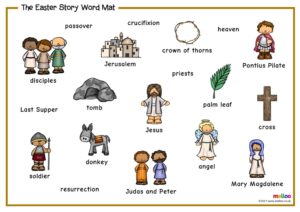 In phonics this week we have been learning:
u – down under, up and down to the puddle.

b – down the laces and around the foot

.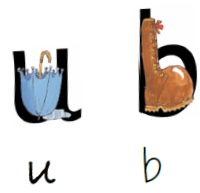 This week we we also explored growing seeds and beans. We have planted some cress seeds and butter beans and we watched them as they grow! The cress grew tall and we made cress sandwiches, they were very yummy! Our beans have also started to grow into beanstalks, we are going to see how tall they will grow, we need to make sure we give them time and that they have water and sunlight.
The children have taken home their Easter bags today. Inside you will find:
An Easter card.

An Epitaphon card.

An Easter story mobile.

An Easter basket, with an eggcup, a red egg, an Easter chocolate and chocolate nest.
Next week we will be:
Having fun with Easter. Easter counting, decorating eggs, going on egg hunts and reading Easter stories.
Happy Easter everyone!
Thank you for your support, Mrs Herne.
Mrs Lowe and Mrs Bruno.