People who help us – The post office
This week we have been:
Learning about the post office. We read a non-fiction book telling us what happens with our letters and parcels once we send them. We had great fun in the post office role-play, enjoyed using the delivering trolley outside and made our own postman, "SPECIAL DELIVERY!!" We used coins to pay for our stamps and to send our parcels and found out how to use scales to weigh our parcels.
In Phonics this week we have been learning the sounds:
'f' – down the flower, draw the leaves.
'e' – cut through the egg, and scoop around.
Please re-visit these sounds at home.
In maths this week we looked at the 1p, 2p and 5p coins. We know that they have numbers on them and that this tells us how many 1p's are in that coin. We used these in the role-play post office this week.  We also talked about pairs of animals when learning about 'Noah's ark' in RE.
In RE this week we read 'Noah's ark'. We enjoyed listening to a story that Jesus told, we sang the animals into the ark and we learnt that God sometimes puts a rainbow in the sky to show us how much he loves us. We then painted our own rainbows and drew our own pictures of the animals in the ark.
In science this week we continued to watch our beans and cress grow. Our cress grew so much that we made cress sandwiches!! We liked them so much that we are growing more cress! Our beans are also starting to grow shoots!!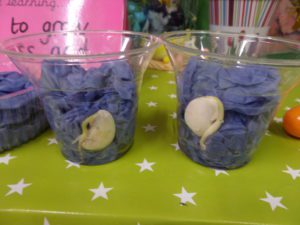 Next week we will be:
Continuing our learning about people who help us – Medical, doctors/nurses/vets.

Continuing our learning about money and coins using 'The Great Pet Sale' book.

Learning the sounds 'l' and 'h'.

Learning about caterpillars and butterflies.

Going on our trip to Apples and Honey.
How you can help at home:
Continue forming the sounds we have learnt so far, explore using paint/wet brushes outside.

Explore coins at home, talk about the numbers they can see.

Talk to the children about caring, for others, for the world (flowers etc), for themselves. Link this to nurses/doctors/vets.
Notes home:
Please note our trip to Apples and Honey is on Thursday 3rd May, please ensure the children are at school promptly, wearing school uniform and sensible footwear as we will be walking. You also do not need to provide snacks as we will be providing them. We will aim to arrive back to school at around 12:30pm, please wait by the nursery gate and we will dismiss the children from the coach. Please avoid reading books/homework books and book bags on this day.

As the weather is very up and down I would like to ask that the children have a jacket in school at all times. We will still be using our outside area. The children can start wearing our school summer uniform if you wish, please ensure names are in jumpers/cardigans.
Thank you for your ongoing support, Mrs Herne.
Mrs Bruno, Mrs Lowe and Miss Kelly