Investigations week
This week we have been learning:
We have been reading 'Journey' By Aaron Becker. This book had no words so we had to read the book using the pictures! We then drew our own pictures of what we would like to see through our magic door.
We had great fun this week looking at money. We looked at different coins that we use and then went on a hunt for 1p coins. We lined them up on the carpet and measured them using rulers! We found out we had 57 1p coins altogether  and they measured 15.5 rulers long!! We also played a shop game on the whiteboard and explored putting money into purses and writing how many we have.
https://www.topmarks.co.uk/money/toy-shop-money 
We made kites this week ready for our Clean Monday celebrations.
We read a story about being safe when we are online. The children are aware that we do not click on things we are not sure about and we should always ask an adult for help.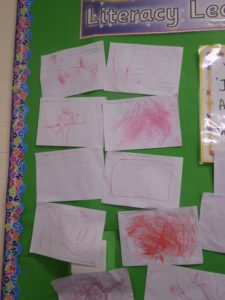 After half-term we will be learning about:
Clean Monday
Chinese new year, we will be exploring racing and talking about ordinal numbers 1st 2nd 3rd etc.
How you can help at home:
Notes for parents:
We hope that you have a restful break, we look forward to seeing you all back on Monday 19th February.
Over the holidays, if you could have a look for any trousers/underwear that belong to the nursery as we are running very low on spares for the children.
Thank you for your ongoing support
Mrs Herne, Mrs Bruno, Mrs Lowe and Mrs Cosma