Reception Monday's Learning 1/02/21
Hello all and welcome to a new week, this week is "Child Mental health week" so we will be doing lots of learning which will focus on your child's wellbeing, especially during these difficult times.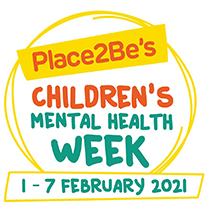 We will still be setting out our learning in the same way as previously, as well as adding some fun exercises and stories for you to share together.
Please begin your day by watching the  mental health awareness assembly on the Oak national academy website. This will be live at 9 am 1/02/21 and will be available online at any point after then using the link below. The topic of this years 'Mental Health week' is expressing yourself.
Assemblies (thenational.academy)
Phonics
Group 1
Review last weeks learning on spelling CVC words using the PowerPoint below practice creating some CVC words using the PowerPoint as a guide have your child spell out 5-10 CVC words depending on how confident they are to begin;
Introduce the word 'and' to your child using the PowerPoint below, practice reading the word and recognising it from memory. Explain that you are going to start making a short sentence by putting words together. Work through the PowerPoint with your child having them fill in the missing words and end with their own final short sentence.
Group 2
Review the digraphs taught last week 'sh' 'ch' 'th' 'ng' and 'qu' , go through the PowerPoint below and practice reading words with digraphs in them, you can either do this on the screen, print them or create your own digraph word flash cards.
Ask your child to use two of these words to create a short sentence. Work with your child on creating the first sentence concentrating on leaving spaces between each word, if your child is struggling with this, placing their finger after each word can help, however some children find this a distraction from writing, you could draw lies for your child to write on or if you have a lolly stick or something similar having your child place this between each word will act as a reminder for them to leave a space.
Group 3
Please review all set 2 digraphs taught so far 'ay' 'ee' 'igh' 'ow' 'oo' 'oo' 'ar' 'or' by using the PowerPoint below to read all words in each set.
Can your child choose a word from each of the final 4 digraphs; 'or' 'ar' 'oo' 'oo' and write a sentence for each one. Please remember to remind your child of how to write a good sentence and to use the correct letter formation. Always ensure your child reads their sentence back to themselves to make sure it makes sense.
English
As this week is 'Child mental health week' we will be looking at different books throughout the week that support the children in understanding different feelings and how they can manage their feelings and express themselves in a positive way.
Please use the PowerPoint below focusing on the story 'Happy right now' and focus on talking about feelings with your child and what we can do when we are not happy.
Maths
This week in maths our focus will be 'Patterns', We shall begin our week looking at what makes a repeating pattern?
"A repeating pattern is a group of colours/shapes/ pictures etc that repeat over and over again."
Work through the PowerPoint below with your child having them talk aloud the colour patterns and finish them off.
Use the sheet below and finish off the repeating patterns, Can you draw your own caterpillar and colour it in using a repeating pattern.
If  you do not wish to print the sheet above, use Lego or coloured blocks to create a pattern, can your child finish it. Repeat this several times using more colours each time. Have your child create their own repeating pattern using the Bricks, can they draw this pattern on paper and colour it in.
Physical wellbeing
As exercise is so important to a child's mental health and well being each day we shall be sharing a physical task for you to do with your child. Today we would like you to create an obstacle course for you and your child (and any other family member) to complete together, using things in your home/garden. Work out together what the obstacle course will consist of and time each other as you go round one by one. You may wish to watch the video below for inspiration;
Quarantine toddler obstacle course – YouTube
You could include some previous learning and include this as stations of your obstacle course e.g match the shape, counting, making words, saying sounds etc.  We would love to see pictures/videos of the children taking part in these.
Challenge:
Your challenge this week is to create a collage of the things that make you the happiest as an individual and as a family, this could be made up of;
your favourite people, favourite food, favourite memories, favourite holiday, favourite film/tv characters, favourite toys, favourite colour, favourite things to do, favourite places to go. 
You could include drawings, photographs, real objects/wrappers etc. Please also include writing to explain what each thing is. We would like to find out as much as we can from your collage and look forward to seeing them. These can them be kept and put up where your child can access them, when your child is feeling down they can refer to all the things that make them happy and look back at happy memories. 
We look forward to seeing all of your fantastic learning this week. 
Miss Hopper and Miss Panayi.